Thursday, May 3rd, 2012
Dear Readers,
I worked a lot to plan the activities for our cinco de mayo classes this week, because I was tired of the same old…..muy cansada! I also grabbed some special ideas to do at home, since the date is on Saturday this year!
I am using the book Fiesta, which I have used before, but with a new spin, I take them through the Mexican Village to celebrate it the old way, the way small Villages still celebrate it! Come and join us!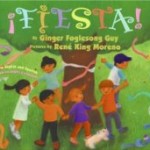 http://astore.amazon.com/easyleacom-20/detail/0060882263
So we travel through small town markets, looking at toys, games, we make anillos and exchange them for the ocho anillos game! We tried 8 instruments which are shown in the book and I purchased to bring to our classes, the children loved it, the challenge was to find Spanish names for some of them, like the rain shaker! We danced around the hat using La Bamba! Last but not least we look at the piñata and I placed candy, which falls at the end of the class, but we also look at the way they are homemade and serpentinas, we review colors, numbers which are added to the social aspect of the party!
I also show this video which reviews vocabulary as they ispy the video, looking for things we talked about before, I divided them in groups, they became so competitive! You will not believe it! Increible!
http://www.youtube.com/watch?v=1y5N2hXOKL4
I also used a coloring page made with coloring page from the web, mounted with maracas, Mexico and a sun! Viva Cinco de Mayo as a title!
I hope you enjoyed my ideas and share here if you used some of them!
VIVA CINCO DE MAYO!
Claudia Krusch
EasyLearn Languages Bilingual Mom , Foreign language Expert and CEO