Tuesday, March 19th, 2013
This year  our Easter season was followed by some mixed feelings when one parent asked me not to mention the word Easter in one of our classes. We normally do a class pretty low key, more towards bunnies, eggs and egg hunt, but we do have Happy Easter in all the coloring pages and her request made me think about how people have a more exclusive than inclusive mentality. It is about excluding Christian values, so the other values are respected and uplifted. Sounds like double standard to me. As a Christian, I feel insulted, as a business owner, I feel my program and its content, since it is announced beforehand, prior to enrollment, should not be subject to change for whatever reason. I believe all religions are important and should be respected, I also believe God does not have a religion and he should be the center of any and every faith.
I had to share what happened this year, which has never happened before, because I believe foreign languages should express the culture of language learned and Spanish and Christians walk hand in hand, there is no denying it!
My comments don't have any intention to offend any of clients which are not Christians, they do offer my perspective on this issue, though. Now let's get to the important topic! Easter!
Happy Easter – Feliz Pascua 
We started with flashcards, showing pictures and words in most of our classes in South Jersey:
Easter – Pascua    Bunny – conejo  Eggs- Huevos  Canasta – Basket  Chocolate- chocolate  Carrot- Zanahoria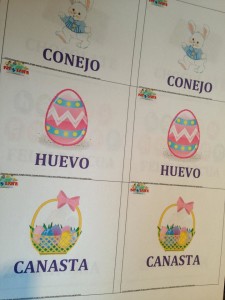 We also Played the Carrot Baseball, children had to use my oversized carrot to hit the eggs on the other side of the room saying just color, huevos + color or Yo veo un huevo amarillo, depending on level.
We colored a page with bunnies in some classes and we wrote a letter to a friend saying what we like about Easter using vocabulary and me gusta…
We played domino, they loved it!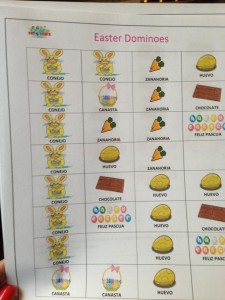 We showed this video: Caramelo!
We absolutely had a blast looking for matches of Easter words and placing them in the canasta!
Hope you enjoyed our class and you use some of the activities at home or in your classroom!
Claudia Krusch
EasyLearn Languages – Director