Monday, January 28th, 2013
     Carnival is approaching and I wanted to share some activities we will be sharing in some activities, some suggestion on games and videos! Enjoy!
Carnival is celebrated in some countries in South America, Europe and New Orleans in the US! I usually don't share it in all the classes, but some of my intermediate and older children classes!
This year Carnival or Mardi Gras will start on the 9th in some countries and end on the Ash Wednesday, Feb 13th. So in two weeks, we will sharing some of the fun activities and bringing the beads and masks to our classes!
So let's share some options for crafts:
Masks- We will be using templates for masks and I will bring beads and stickers and glitter to make the masks! I cut the masks myself on cardstock and punch holes for the two parts to tie in the back.
Here is a link for a Free printable template, but I design and cut my own and will be sharing some pics of the student's work later after we do it!
http://freebies.about.com/gi/o.htm?zi=1/XJ&zTi=1&sdn=freebies&cdn=hobbies&tm=9&f=10&su=p284.13.342.ip_&tt=3&bt=0&bts=0&zu=http%3A//www.activityvillage.co.uk/mardi_gras_masks_to_print.htm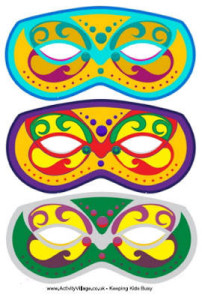 Confetti  
We will make our own confetti, I will bring construction paper and classes of children 6 and older will use templates of shapes, while learning shapes, make their own confetti, review colors and trade them to make a confetti rain at the end!
Beads
We will be making necklaces with beads and other materials, using different colors and ideas, I can't wait to see their creations!
Some music:
We will be listening to Spanish Music, Rick Martin and doing a Spanish dance, Brazilian Music in the Portuguese class with Yvette San Galo! Here are the videos for the songs we will be singing in class:
We will also teach older children children the history of Carnival which started in Venice and how it survives in countries like Brazil, being a part of the country's culture as a major component to their identity! I spent most of my life enjoying Carnival in Brazil and spent one in Venice, Italy, so I always look forward to finding a new way to share that with my students!
Teaching a foreign language is a lot more than just vocabulary and grammar, it is about connecting the passion behind the language!
Viva Carnaval!